Systems Administration
Design of home IT infrastructure
Network
HP 1810-24G Switch. It's a little overkill, but I wasn't able to find a desirable 16 port switch. With the swtich I was able make all the ethernet ports in the home live on top of servicing the server infrastructure I speak about below.
Server Infrastructure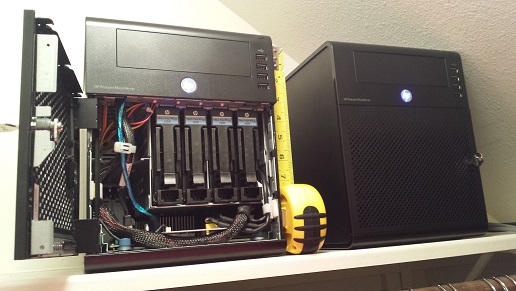 Server One - HP ProLiant N40L MicroServer Server System AMD Turion II Neo N40L 1.5GHz 2-Core
10.5" x 8.3" x 10.2"
8GB (2 x 4GB) DDR3 RAM
1 x 250GB SATA WD for the OS (FreeBSD 9)
4 x 3000GB SATA WD RAIDED with zfs
NFS using Samba
Apache/PHP/MySQL
Squeezebox server
IP: 192.168.1.10
Root run cron entry: Backup Script /root/scripts/rsync-backup.sh
Backup script uses rsync to keep the Douments/Pictures of users in sync with another copy on a remote server. Any additions/deletes/modifications of any directories/files within these folders are duplicated on the remote server it backups up to once a week. Then emails me a report of what occurred. Here is a sample:

2015/03/22 10:00:04 [1669] building file list
2015/03/22 10:00:04 [1669] <f+++++++++ pictures/2419Roufa/FrontDoor/DSC_0018.JPG
2015/03/22 10:00:23 [1721] <f+++++++++ Documents/1038 N.E Van Loon Terr/mortgage/payments/march-2014.pdf
2015/03/22 10:00:26 [1725] *deleting   www/www.allengibbard.com/wordpress/wp-includes/pomo/


All content is stored on Server 1. Pictures, Music, Documents, Videos, development websites, etc. for each user account on the server. House hold account holders can mv/cp content from their phone, tablet, or desktop by way of NFS share. As you can see there is more than enough space packed in that small server to last for a long time. Using ZFS for redundancy. I can lose one of the 4 Hard-Drives and should be able to rebuild all the missing data on a new disk. The backup script copies all user's "[dD]ocument", [pP]ictures" folders which reside in thier home directory. Files not written to these directories are not backed up.
Servers 2 Hardware - HP ProLiant N40L MicroServer Server System AMD Turion II Neo N40L 1.5GHz 2-Core
10.5" x 8.3" x 10.2"
8GB (2 x 4GB) DDR3 RAM
1 x 250GB SATA WD for the OS (ESXi 5.5)
4 x 1000GB SATA WD
IP: 192.168.1.20
VSphere was installed on my local windows laptop with the free License so I can manage the VMs on the ESXi server
Created base image to use as a template for my VMs
Download CentOS netinstall iso
Created new VM called TemplateServer using that iso, and completed the install.
Updated all the packages installed (yum check-update, yum clean all, yum update).
Cloning VM in vSphere without vcenter you tube
In the ESXi interface, right click go to properties, select "storage".
Create folder under the parent of the new VM you want to create. Like "appServer".
In the same window go into the TemplateServer folder and right click on the .vmx and the vmkd files and select "copy".
Click on the newly created VM folder (i.e. appServer) and paste what was copied into that folder. It takes a bit of time copy.
After, right click on the .vmx file and select "Add to Inventory", and use a name to describe the VM. I used the same name "appServer".
The VM should then appear in the left pane with any of the other VMs you may already have.
Start the VM.
Next, you need to address the network configuration. by doing the following:
Delete /etc/udev/rules.d/70-persistent-net.rules
Comment out the HWADDR= in /etc/sysconfig/networ-scripts/ifcfg-eth0
Reboot.
VMs
Backup - This server has about 900GB of space, and excepts the data rsync'ed from the other HP NL40 server running FreeBSD. There is a cron job on the FreeBSD server which runs every Sunday at 10am. It emails me a detailed report on the syncs.
appServer - This Server runs Tomcat and was allocated 2GB. I use this server to practice developing applications.
Services - THis server has other services that the household uses, but is also for my personal develop. So far I'm running a DNS, and LDAP server on this one VM.
TemplateImage - is just the VM I use to create all the other VM. Being the infrastructure is so samll on these servers, I'm really limited to about 4 or 5 VMs. This VM stays off until I wish to create a new VM or upgrade an existing one. I will start this VM up, and conduct any patching or upgrades. Then use this as a template to create an updated/current VM.
Added another disk to the "Backup" VM using this documentation
Uninterruptible Power Supply (UPS)